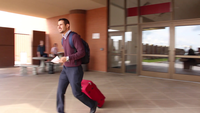 Arriving in Tallahassee and at CIES
TRANSPORTATION FROM THE TALLAHASSEE AIRPORT
The Tallahassee Airport is very small so don't worry! Collect your baggage and go out the door next to the baggage claim area. You will find taxis right outside the door. You can take a taxi to CIES or to your pre-arranged hotel or apartment. CIES is open Monday through Friday from 8:00am to 5:00pm. The taxi ride should cost about $20.00 to get to Florida State University and CIES. For more information, see this City of Tallahassee Taxi Directory.
WHAT TO BRING WITH YOU 
You should have a paper with the name, address, and phone number of the hotel that you are going to stay at so that you can show it to the taxi driver.  You must also bring your passport, your signed I-20 form, and proof of health insurance, if you already have it.
HOTELS
Before arriving you should make a reservation at one of the local hotels. Please see our list of Hotels Near CIES and Florida State University.
You will check in at CIES on the date and time written on your acceptance letter. You must bring your passport, your I-20 form, and your proof of health insurance. Please read about the required Health Insurance and Immunizations on our website and feel free to contact our front office staff for more information.
The director will give you a 1-hour orientation of CIES and your language classes. You will then take placement tests in Writing, Reading, Listening and Speaking. The new students will be provided a complimentary lunch.
The next day students pay their tuition, go on a short campus tour, and get their FSU Student ID Cards.
Classes begin on the third day with a breakfast at CIES at 8:30 am. Please click on the link for a sample schedule of your first few days: This Week's Schedule