Ramin Yazdanpanah, PhD Candidate
CIES-TEFL Program Coordinator
Ramin Yazdanpanah is the TEFL Program Coordinator at the Center for Intensive English Studies at Florida State University. Ramin specializes in English language teaching, EFL/ESL teacher education, and intercultural communication/competence training. A visionary with a global-to-local perspective, Ramin strives to apply effective and creative methods to learning and teaching that facilitate personal and professional growth. Ramin is set to complete his PhD in International and Comparative Education, with a focus on intercultural competence training within English language teacher education programs.
Contact:
ryazdanpanah@admin.fsu.edu
(850)645-0907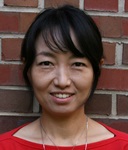 Ah-young Kim, MS
CIES-TEFL Program Instructor
Ah-Young holds a Master's degree in Multilingual/Multicultural Education from Florida State University as well as a BA in French Language and Literature from Korea. She has written CIES grammar textbooks at FSU, and she has also published a series of grammar books in South Korea.
Contact:
ayk03@fsu.edu
(850)645-9986